This is a true story. My sister, Alysha, had her phone in her pocket in seat 38A of flight 1026 flying from Houston to LAX, serviced by United‬. It fell out. We heard it. She felt it. We immediately searched everywhere and had the people sitting nearby look, too. Nothing. That's when we noticed a gap between the edge of the floor and the wall of the plane. Yes. It really happened.
The hole in the floor. The black panel also flexes, making it possible to slide an entire arm down that area.
So we hit the "call attendant" button. Approximately 15 minutes later, the flight attendant with the beverage cart makes it to our row, turns the light off, and asks us what we want to drink. We politely tell her nothing, but that we had another concern. This is a rough version of the conversation that took place:
Me: So there's this hole near the wall—

Sherlina (the flight attendant), interrupting: It's okay.

Me: No, I mean, I was trying to say that my sister dropped her phone, and we think that's where it went.

Sherlina:  Girl, it's gone.

Me: I mean, where does that hole go to?
Now, I want to point out a few things at this point. I am sharing this conversation as close as I remember it, but I can guarantee you, the words "Girl, it's gone" are a verbatim quote. Also, through a few more frustrating comments, Sherlina tells us that a mechanic will need to be called once the plane lands. On the whole, we did not have a ton of confidence that this was going to happen based on the attitude and lack of concern about the lost phone, but moreover, the fact that there is a HOLE. In the PLANE FLOOR. In fact, her first response was to off-handedly tell us it was fine. As though this hole was no big deal. As though people ask about this hole regularly.
This also raises a side issue, that I do not even have the time or energy to pursue further but as I'm writing this, I figure I might as well say it. We had the call flight attendant light on for quite some time, and when she came, she turned off the light without ever even asking what we needed or why. Clearly, we put the call flight attendant light on to be offered a soda with the beverage service…. (that was sarcasm, in case it didn't translate well).
Anyway, we raised the question with the next flight attendant we met, who seemed much more concerned and told us she would help us look after the plane landed and to just wait until everyone else deplaned.
Once everyone deplaned, we tried to reach into the hole and felt around. The hole was big enough for us to stick our arms down there and feel around. The space down there was gigantic and it sloped down away from the wall of the plane. Clearly, if something had fallen down there, it would not be easily reached.
We were told to deplane, and a mechanic was called. United told us that the area of the plane it fell into is not accessible unless you take the plane apart. And they would not be doing that as they were scheduled to fly back to Houston. Thus, Alysha began a frustrating process of trying to fill out some sort of claim form. And by form, I mean, a gate agent took down Alysha's information on a sheet of paper. At that point, the gate agent told Alysha that it was her fault for dropping the phone.
Nevermind the fact that they have a hole in the floor of their plane.
So Alysha and I have questions: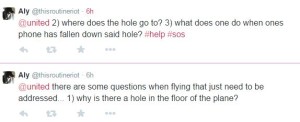 1. Why IS there a hole in the floor of the plane?
2. Where does the hole go to?
3. What happens to things that fall in the hole?
4. What else is down there?
5. Why is no one concerned about this? Is this a safety issue?
6. Why is it Alysha's fault that there is a hole in the floor of the plane?
And Finally:
7. Since when is it okay to have holes in plane floors that access inaccessible areas that require the plane to be taken apart in order to reach lost items???????
If this is ridiculous to you, please tweet United, post on United's Facebook, or share this blog post. To me, this is NOT okay.
#noholesinplanes #whereisalysphone