Day 21, March 26th: I saw Brandi at Salon De Christe. She never, ever disappoints. I loved my cut and color!
Day 22, March 27th: We had friends over, and I enjoyed spending time with these amazing ladies!
Day 23, March 28th: Someone refused to make a silly face — can you tell who? We had an amazing double date night with our sweet friends, Nancy and Louis. We started with dinner at Sidney Street Cafe, and then went back to their place for games. I was so glad we had an opportunity to relax and have fun with them before their move to Chicago!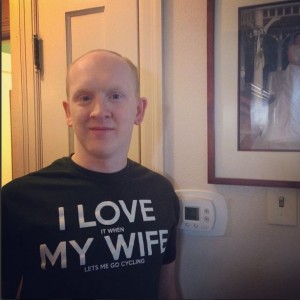 So proud of my husband for taking a risk and quitting his job! Sending him off on a cycling trip with his buddy to celebrate! I got him that shirt for our anniversary, haha.
#100happydays
#hubby
#cycling
Day 24, March 29th: With both Louis and Jonathan unemployed, the boys decided to go off on a cycling trip. Jonathan quit his job in order to pursue learning some new programming skills and I am really proud of him for being brave enough to try something new, and I am so glad that I am able to support him since he's been so supportive of me through school and my job!
Day 25, March 30th: My great friend, Beth, kept me company while Jonathan was out of town. We both love trying new and interesting restaurant, so on that day, we tried Layla, and absolutely loved it!  The gooey butter baklava was out of this world!
Guess who is going to be an Aunt again?? So excited for my sister-in-law and her family!
#100happydays
Day 26, March 31st: My sister-in-law, Monika, announced (officially, and adorably) on Facebook that she is pregnant again! I absolutely LOVE being an aunt and I am so excited for her family!
Bonus! My boss brought me Starbucks. Yum!!
#100happydays
Day 27, April 1st: My boss loves me. Yum. Caramel macchiato.
Day 28, April 2nd: Another makes-me-fat day at work 😉  We had an Easter egg hunt, and inside each Easter egg was a number that could be traded in for a prize. Mine was this chocolate bunny, filled with cookie dough… yummm.
Day 29, April 3rd: So, on April 2nd, we also flew out to Vegas! Our second day in Sin City, we had a dinner that really felt sinful!  We are at B & B Ristorante, owned by celebrity chefs Mario Batali and Joe Bastianich.  This was probably the best dinner of my lifetime. Every course was delicious, the service was impeccable. I could not ask for more from a dining experience!
The sun was bright so we had some struggles not squinting, but we are having a fun day today!
#100happydays
#vegas
Day 30, April 4th: We went on a tour to Hoover Dam, and on the way we had a quick photo stop at the iconic Las Vegas sign. The tour was really cool and interesting, and I have more photos from Vegas and the tour, but this was my "happy day" shot because the sign was cool and I loved that we captured the fun of our vacation!