Jonathan turned 20 dollars into 131!!! Enough to buy the delicious soufflé that I'm going to post next…
#100happydays
#vegas
Best soufflé I've ever had! At the Eiffel Tower restaurant in
#vegas
Day 31, April 5th: Okay, you got two pictures for this day! I thought it was just wrong to leave you hanging and wondering what that souffle looked like!  We had so much fun in Vegas, and I am having fun reliving those memories by posting these #100HappyDay posts. We didn't spend a ton of money gambling, but it was SUPER fun to spend 20 dollars on slot machines and hit the jackpot and just watch the numbers go up and up and up!
Day 32, April 6th: On our last day in Vegas, we went over to the Rio to see Penn & Teller! But before seeing them, we went to this little wine cellar in the Rio and had wine flights and a cheese plate. This is definitely a hidden gem in Vegas. It was cute and quiet, the wine and cheese were delicious, and the service was great! Penn  & Teller were pretty great, too, although I sort of fell asleep and Jonathan and I had a little fight over that. He was really disappointed that I fell asleep during the best trick/act. I was, too. But, it happens. Especially when you've been too busy having fun and not getting enough sleep!
One last shot from Vegas. We made it home tonight after a great vacation!!!
#100happydays
#vegas
Day 33, April 7th: We did not see the Bellagio fountains on April 7th. Actually, we flew home on April 7th, so I thought it was fitting to do a latergram of an iconic Vegas spot that we saw two nights previously. It was BEAUTIFUL.
Beautiful flowers growing in my yard! Yay, spring!
#100happydays
Day 34, April 8th: If you have to come home from vacation, it sure is nice for your yard to greet  you with such lovely flowers!
Day 35, April 9th:  We got to catch up with our friends, Laurel and Ben! They moved away to Michigan several years ago, so whenever they come through Saint Louis, it is always such a treat to see them!
Love my jams!!! Great bday present from fancy pantsy nancy
#100happydays
Day 36, April 10th: We got to have our final hang out with the Krelles pre-move!  Nancy did my nails with Jamberry nail decals that she gave me for my birthday!
Day 37, April 11th: Carissa and Brian shared their arcade Groupon to The Neutral Zone with us! Carissa and I started playing this police-training game that had really hard skill tasks that focused on aim, speed, and accuracy. Whew! It was so much fun!  After that, we went to a Jurassic Park Marathon Party!!! What a fun day!!!!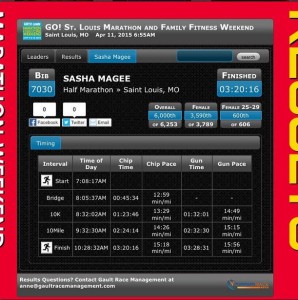 We ran the half marathon. Well, ran and walked. We didn't do any training for this, so I'm actually pleased with my time and that we ran half of it!
#100happydays
#halfmarathon
#fitness
#running
Day 38, April 12th: So, we had basically decided that we would not run the half marathon because we didn't train for it the way we had intended, and I am a slow runner even WITH training. But then we thought, well, might as well go. What's the worst thing that happens, we get picked up by the "You're going to slow" bus?  Well… I had my best 5k time on the first 3.1 miles (34 minutes! Which is a great time for me!) and then we ran walk the rest. Doing the first bit so quickly (again, for me!) kept us in front of the bus, and we felt so accomplished at the end!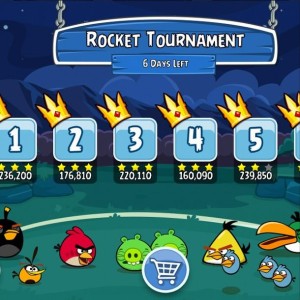 For a fleeting moment I tasted success… Why am I addicted to this game??
#100happydays
Day 39, April 13th: The next day, I clearly didn't do anything active because I was SO SORE from the half marathon! So I played angry birds friends, and for a brief second I was winning. This is so rare for me. And it was pretty much only because Alysha, Jonathan, and Nancy hadn't played much yet….
Day 40, April 14th: Food that I didn't cook that was delicious. 'Nuff said. 🙂 But I will give you the recipe: http://www.eatingwell.com/recipes/asparagus_ham_potatoes.html