What Is This FitBloggin' Thing?

Straight off the FitBloggin' website: For bloggers interested in fitness, wellness, good food and a healthy lifestyle. Two days of education, networking, friendship and fun.
Hopefully this recap will help you get a small taste for the awesomeness that was FitBloggin'!
Day 1: Thursday
So, my journey to FitBloggin' actually started on Wednesday, when I flew to Denver. A good friend of mine, Randal, lives in Denver, so I flew out a bit early to spend some time with him. I worked from home from his apartment during the day, and he dropped me off at the Westin just in time for the registration and welcome event.
The first thing I saw when I walked into the conference was a familiar face! It was Ashley!


Ashley and I have been co-leading a weight loss team through LoseIt for a few years now, and she was every bit as friendly, determined, and inspiring as I knew her to be on the internet!
At the welcome reception, there was tons of delicious (and healthy!) food and an ice breaker where you went around and found people who fit certain categories. For example, I had to find someone whose name started with the same letter as mine. It was a great way to meet some people and start getting comfortable with the awesome community that is FitBloggin'! There was also a conga line. They had us line up by the first number of our zip code, and the fabulous Sara and I represented the number 6- Midwest, all the way!
Day 2: Friday
Now, I'm going to be completely honest here. I horde my days off and save them for seeing friends and family. When I first started considering FitBloggin', I thought, I can't really afford to use a day off for something that I don't even know if I'll like.
But for some reason, I did. And I am SO GLAD! What an amazing use of a PTO day. If you work full time and live far away from your family and friends, then you'll understand how hard this decision was and what a blessing it was. I will save a PTO day EVERY YEAR for FitBloggin' after this year!
Anyway, I started the day with a 6:30 am workout hosted by the amazing Erin. I'll be honest, the work out was HARD, but I felt so invigorated and inspired afterwards.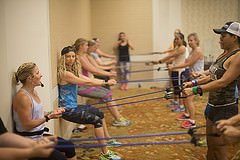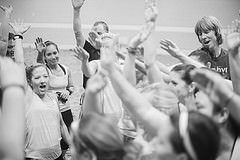 What I loved about Erin was that she made everybody feel involved and capable, regardless of fitness level, without letting anyone phone it in. She was one giant bundle of ENERGY!
We also got to keep the resistant bands from HumanX— stay tuned, I'll be raffling off a set sometime between now and July 15th!
We also got foot notes from Momentum Jewelry. In addition, this was the morning that I met Melissa, who was doing a giveaway, so I received a hot pink bracelet with a charm that says "Make It Happen." This bracelet was my motivation for the REST of FitBloggin', and has quickly become one of my favorite accessories!
After the workout, I went to a session on building readership through social media, hosted by Ty. I learned a few things: a. these ladies were INTENSE on their dislike of Facebook's algorithms. b. There is something called a twitter chat? c. hang out in spaces you enjoy hanging out in. Good stuff!
Next up was the zumba fest, led by Nellie. I wish my zumba buddies from Saint Louis could have been there because they would have loved this fun session!
During lunch, we had a fashion show hosted by SoyBu, and it was really encouraging to see that the "models" were FitBloggers of all shapes and sizes, and every one of them looked and felt great in their outfits! Definitely going to have to check them out next time my work out wardrobe needs a little updating!
After lunch, one of the sessions I was most excited about going to going into FitBloggin' was a session on food photography hosted by Kacy and Brandi! I love creating recipes and a lot of times I don't bother posting my creations because my photos are so bad. My sister and her boyfriend ALWAYS tell me my food photos are awful. So I learned some tips on staging and lighting, and I am well on my way to being an expert food instagrammer… 😉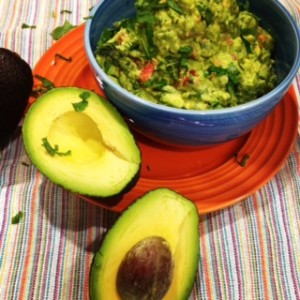 What do you think? Am I a Pro yet?
In the evening, we had Ignite Fitness! This event was awesome! First, the style of speaking was Pecha Kucha style. Essentially, each speaker had five minutes to speak, and the slides auto-advance on a timer. This prevents speakers from getting off topic or on tangents and keeps the talk moving. Can I just say, every single speech was awesome and inspiring? Way to go, Speakers! I felt so pumped up! After these speeches, I now want to buy a pressure cooker and start doing stair climbing races.. hah! There was also a speed round, where three people could volunteer to give a speech on someone else's slides, sped up, and you had no time to prepare. I did volunteer myself for this bit of fun, as part of my new mindset to conquer fear and try new things! I think I would have made my ToastMasters club proud had they been in the audience, but Ty did better and won with his excellent speech about.. putting cats in microwaves?? It was hilarious, that is for sure!
We also had a fitness flashmob in the middle of the event! I have never participated in a flashmob, but this was super hilarious and fun!
That's a lot of stuff, all packed into ONE DAY, right? And I didn't even write about every single little thing. …. whew.
Moving on to …
Day 3: Saturday
First things first, gotta get in that WORK OUT! Today's work out was a yoga session on the roof by the pool, hosted by Silk (think soy milk, almond milk, cashew milk, etc). It was BEAUTIFUL.
The next portion of my day was a piece that I was super excited about – a lunch hosted by the The California Avocado Commission with food created by Chef Jennifer Jasinski, a Top Chef Masters Finalist and James Beard award winner! The food was amazing. I can not even get over it. Just check out my very amazing looking pictures ( – good thing I did that food photography session the day before! – ) from this lunch and drool a bit: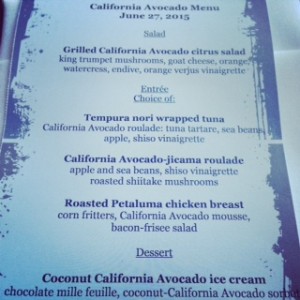 In the evening, we had a reception with JumpSport trampolines, and a lip sync contest. I also put myself out there for that one, and gave it my all, including jumping around on trampolines like an insane person. In the end, though, a group that did Pitch Perfect, who was completely aca-awesome, won. I was bummed to not get a trampoline, though. I really wanted one! Oh well, maybe next year? That being said, I did win a free video of a trampoline work out (talk about rubbing salt in the wound!)…
All in all, FitBloggin' was incredible. I would go again. I want to go again. I met so many amazing people and was challenged to grow myself and my blog.
So glad I got to be a part of this amazing group and participate in this conference!
*All photos of the event (except from the food photography session, the avocado luncheon, and the selfie of my and Ashley) are courtesy of Carrie D Photography