So two things have been happening lately:
1. It's hot as Hades here in Saint Louis.
2. I love sweets, but the idea of eating like a brownie when it's killer hot makes me feel sick.
So I have a great recipe to share that can satisfy that desire for dessert, but still taste light, refreshing, and is great on a hot summer day! The recipe is below, using YumPrint, which I just discovered so you can see everything concisely at the bottom, but I'm going to walk you through it visually, as well!

First, you supreme a grapefruit. Do you even know what that means? I didn't. I was trying to describe how to do what Jonathan did to that grapefruit in my recipe, and he was sitting next to me and told me, "You just supreme it." I said, what? So I had to google it, and here is how to Supreme a Grapefruit. Basically, it is a method for taking apart a grapefruit such that you only have the delicious insides and none of the peel, pith, or membrane. I'm not even going to try to describe this. The link I posted does a much better job. 🙂 Maybe I'll make Jonathan make a how-to video this weekend. So once you have supremed your grapefruit, you can squeeze any extra juice left in the membrane into the bowl.
Second, you peel and dice a pear and add it to the bowl. I like a small dice. You can see the size comparison in the picture above.

Next, you take six mint leaves. These are straight from our garden, so super fresh! You just chop it up into little pieces. Nothing too fancy here. You could chiffonade it if you wanted to, but we didnt. Add that to the bowl.

Next, measure 1 tablespoon of agave, and add it to the bowl.

Next, pour a shot of rum. Because you should never pour less than a shot of a good rum. Measure a tablespoon out of your shot, and add it to the bowl.

Then, drink the rest of the shot. This part is really optional. You could have just measured out a tablespoon of rum to begin with, but where's the fun in that? You're the chef. You deserve it! You can also add all the rum to the salad for more of a boozy dessert.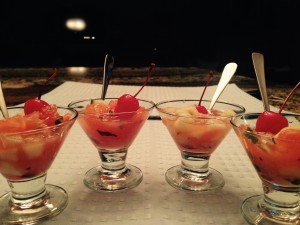 Finally, plate your adorable fruit salad into adorable bowls and enjoy. Or just eat it out of the bowl you started with and save dishes. Your choice. 🙂
Mojito Fruit Salad
2015-07-15 18:42:05
Serves 4
A refreshing dessert using grapefruit, pears, mint, rum, and agave.
Nutrition Facts
Amount Per Serving
* Percent Daily Values are based on a 2,000 calorie diet. Your Daily Values may be higher or lower depending on your calorie needs.
Ingredients
2 grapefruits
1 pear, peeled and diced
1 tbspn spiced rum
1 tbspn agave
6 mint leaves, chopped
Instructions
Supreme the grapefruit, ensuring that there is no peel, pith or membrane and place in bowl. Squeeze any juice remaining in the peel or membrane into the bowl with the supremed grapefruit.
Peel and dice the pear and add to bowl.
Chop the mint and add to bowl.
Add agave and spiced rum.
Stir all ingredients gently so as not to damage fruit.
SashAroundTheClock http://www.sasharoundtheclock.com/