Here's a confession – I almost didn't write a You Can, Tuesday! post today. I've had dental work done on Friday and Monday and have been feeling sort of blah and mopey. I have a few great topics I am working on, but they weren't perfect and I was being incredibly self-critical.
So I was just going to… Not.
Instead, I was working on inspiring myself, and created an inspiration quote board on Pinterest to try to shake off my funk. Then, I was trying to explain to a friend of mine what I was doing, and realized two things:
1. Not everyone understands Pinterest
2. My inspiration board is pretty darn inspiring.
So today's You Can, Tuesday! post is three fold. I want to share a few inspirational quotes and my Pinterest board in case anyone wants to be inspired or encouraged by it, then I am going to do a quick overview on getting started on Pinterest so you can start your own board (feel free to share yours in the comments if you have one or create one, because I could use all the encouragement I can get!), and also share a few places that make it easy to generate your own quotes to share!
Part I: My Inspiration Board on Pinterest
Follow Sasha Magee's board Inspiration on Pinterest.


Part II: Getting Started on Pinterest
Okay, so I have assumed for the most part that you are familiar with Pinterest, but in case you're not, let's start with an overview of what it is. Pinterest, essentially, is like online, shareable bulletin boards. You "pin" things you want to look at or read to the bulletin board. You can create as many bulletin boards as you like on a range of topics! For example, when my family was planning our trip to Australia, my sister created a bulletin board where we pinned links and pictures to anything and everything I found that was an idea for the trip, including places to eat, and things to see!
Follow Alysha Noorani's board Australia – 2015 on Pinterest.
If you check out that board, you'll see that its a group board, meaning that multiple people can pin to the board. In this case, my sister and I both wanted to be able to pin to the board so we could share ideas. Pretty cool, huh ?
I don't find the navigation on Pinterest to be 100% intuitive, so here is a screenshot, and I'll walk you through the basic navigation, as well as how to start your own Inspiration board! First, here is a screen shot of my Pinterest homepage.
1. In the top left corner is the Pinterest icon. When you click it, you get to your Pinterest homepage. Which you would think would be all of your boards, but, that would be wrong! Pinterest aims to be a social media tool, so your homepage will be filled with pins that you or your friends have pinned, or that Pinterest thinks is related to things you've pinned recently. More about that later. To the right of the orange number 1 above, is the search bar. This is where you can quickly type "cute curly hair cuts" or "ways to use burlap" or "kale" and find whatever you are looking for!
2. To the left of the orange 2, there is a drop down where you can toggle between looking at your home page or looking at other categories, such as "Popular" or "Art." I literally have never used this until today. And probably won't. To the right of the 2 is a button that has my name on it. When I click there, I get to all of my Pinterest boards. See the next picture for more on this.
3. This is the Pinterest notification section. If you click this button, a new menu will pop up with three tabs. The first tab, "News" is a list of what your Pinterest friends are doing. Tab 2, "You," shows you when people repin your stuff or follow you or your boards. Tab 3, "Messages," shows you when your Pinterest friends have sent you messages or sent you pins.
4. As I mentioned above, Pinterest aims to bring a social aspect to saving all of your links. I've blurred out the names, but you can see that Pinterest is recommending me to invite Facebook friends who aren't on Pinterest (or aren't connected through their Facebook) in the top window, and recommending that I follow Facebook friends who are on Pinterest.
5. Underneath each pin showing up on my homepage is a little explanation of why it is showing up. The pin the left of the number five is something I've recently pinned, so it has my name and the board it is pinned on. It could have a friend's name and their board name. The pin to the right doesn't have a name. Instead it says "picked for you." Pinterest recognizes that I've been searching for DIY things, and recommends that pin for me. It's sometimes useful and sometimes creepy.
Once you click on your name from number 2, then you see this view. You can see the top breaks out my social media stats, and under that you can see each of my boards. In the top left is the "Create New Board" space, so you can click there to create a new board.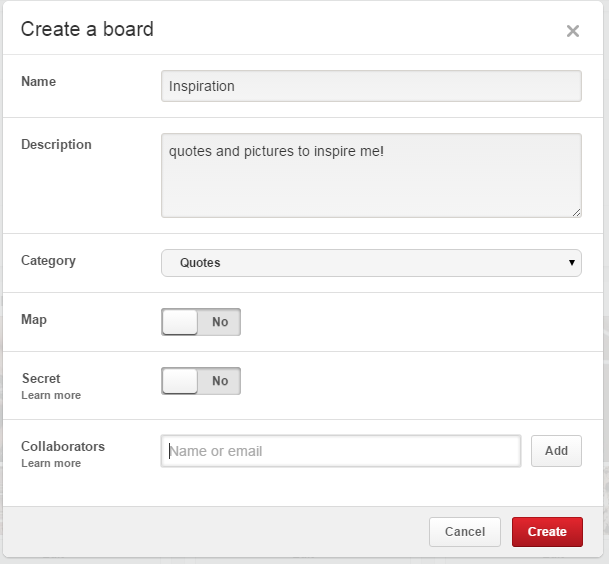 So, let's create an inspiration board together! When you click the "Create New Board" space, you will get a menu like this that pops up. First thing, name your board. I've named mine "Inspiration." Next, write a quick description of what is going in your board. Third, give your board a category. I called mine "quotes" since I anticipate largely pinning quotes to this board. I did not turn on a map for this board, a feature that I have not yet found useful for any of my boards, so readers, if you've used this feature, please chime in! Next, I did not make my board secret. You can make a board secret if you don't want your friends to see it. Maybe you are planning a surprise party and don't want anyone to know about it yet. That would be a great time to make your board secret. Finally, I've not added any collaborators, but you can, as Alysha did with the Australia Board. Then click create, and voila, you are ready to pin!
You can pin things in a number of ways. The easiest is to search for things in the search bar in Pinterest. The second way is to click on the board you want to add a pin to, click the "Add pin" space, and copy and paste a link of what you want to pin in. Third way, is when you are surfing the net and and the website owner has set it up so a "Pin It" button appears over the picture. For example, on one of my favorite sites, I Waste So Much Time, at the bottom of each picture is a "Pin It!" button. Finally, you can add a pin it button to your browser, which you can read more about here, if you're interested: Pin It Button.
Part III: Making Your Own Images (Simply)
That's all well and good, but what if you have an awesome idea for a quote or image and it doesn't exist yet?? Then what? Well a simple place to start is Be Happy Quote Generator. It might not be as fancy, but it is quick, easy to use, and looks nice. You can easily change the font, colors, and alignment and create a great quote in seconds. Here's one I made that fits today's theme!
You can also give PicMonkey a try! You have a lot more options, but the there are two drawbacks. First, it is a pretty sophisticated, web-based tool that is free. So, necessarily that means it has ads, and sometimes runs really slow as the ads run. It also slows down everything else I'm working on. It is also way less intuitive to use, but like I said, you can make prettier pictures. Like this one :
I hope this post has inspired you in some way – by introducing you to Pinterest or creating your own pictures, or sharing some inspirational quotes with you!
Do you have an inspirational board on Pinterest?
Have you written an inspirational post recently?
What do you use to create images for your blog?
How do you motivate yourself when you're in a funk?
Feel free to share blog posts or pinterest boards in the link up or comments!
Do you have something encouraging to share this week? Grab a badge, share in the link up and remember, you CAN!
Loading InLinkz ...