It has been an insanely busy few months here! I'm going to write some blogs specific to some big events that have happened lately, but here's a highlights reel of what's been going on.
We went to Ohio for my sister-in-law's baby shower.
We ran in the Rootbeer Foam Fest 10k:
My goal was to run the first 5k in under 40 minutes, and I hit 38:20. The course was great, and it was a lot of fun!
Pancakes got sick and had to go the vet and needed lots of love and care:
We really thought he was dying, but we have an awesome vet, he got put on lots of meds and tummy rubs. Needless to say, we spent a lot of time with this little guy for a month trying to get him back to his normal self. I am happy to report that he is doing great!
Jonathan turned 30. We had a party, and went camping.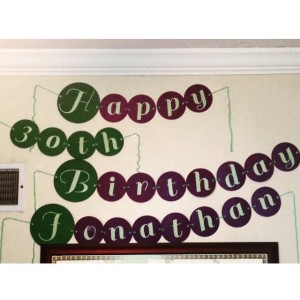 Longer post on that forthcoming. But isn't the banner I made pretty??
We went to Ohio to celebrate a belated Eid with my parents.
My sister and her husband visited from Boston.
I should have taken more pictures but we went to the city museum, ate great food, learned some acrobatics, got massages, and played karaoke revolution! A lot of fun packed into a weekend!
I had a huge work project, that took a lot of time out of my evenings and weekends for a few weeks there.
I don't have pictures of that. But I think this meme pretty much sums it up. Glad to say the project was a success!
We visited our best friends who moved away to Chicago.
And back to Ohio for the birth of our niece, Amelia Eleanor.
And then out to Baltimore for Alysha's 26th birthday.
Another whole post on this forthcoming as well.
And that about brings you up to speed! Whew! It's been busy!