On TV, the pregnant lady gets to eat what she wants. She gets to have cravings and demand late night ice cream runs from her husband. This pregnant lady has been diagnosed with gestational diabetes. Which essentially means a very restrictive diet where I count carbs, measure my blood sugar four times a day, and have to be very careful about how much and what I am putting in my body at any given time. Gestational diabetes and managing it can look very different for different people. Some people just have to count their carbs, and what the carbs actually are don't really matter. Not so for me! A piece of white toast send my blood sugar sky rocketing, so essentially I have to eat healthy. Bummer. 😉
A typical breakfast for me looks like:
Option 1: Yoplait Plenti – which is a pretty nifty little carton of greek yogurt, fruit, and whole grain oats.
Option 2: 1/2 slice whole grain toast with butter, 1 scrambled egg, 1/2 cup berries
These are the two breakfast options that seem to work well. But today is Saturday. Lazy, lovely Saturday. Whenever Jonathan and I are home and not busy on a Saturday morning, we usually cook some sort of delicious breakfast together. Like pancakes. Mmmmm pancakes.
So we ventured into the world of paleo baking and decided to give an alternative pancake a try.
For the pancakes, we used Fluffy Coconut Flour Pancakes. We did find that the batter was way too loose, and had to add another 1/8th cup of coconut flour.
Then, we had to think about what we were going to do about syrup. This is where Chef Sasha got to be creative. I usually have fresh berries with breakfast or as a morning snack, so we had a giant carton of strawberries handy.
We chopped up 9 strawberries, and threw them in a pot with 1/2 cup water, and 1 tablespoon agave.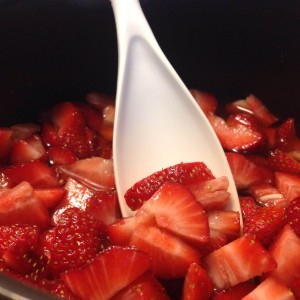 I cooked that for about 5-7 minutes on high until the strawberries were soft, and then mashed them with a potato masher.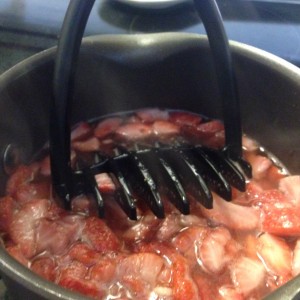 Once they were good and mashed, I reduced the heat to medium, and let it simmer for about 10 minutes. The water reduced and it was thicker, but not syrup-py. Then I removed it from the heat and let the natural pectin from the strawberries thicken it up. Voila!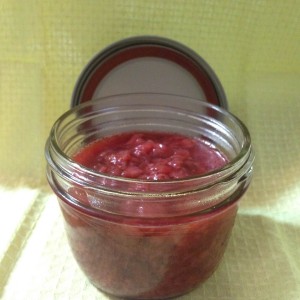 The amount made is about one small mason jar. It was the perfect amount for a half recipe of the coconut pancakes, and fed two people. Honestly, it was delicious!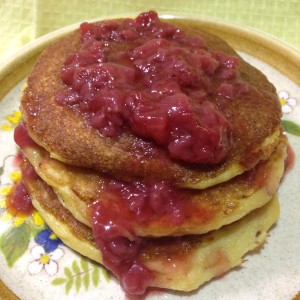 Now, I won't claim the pancakes were as good as your traditional, white flour, buttermilk pancakes. But for a healthier option, we were really happy with them!
The pancakes were delicious, the topping was a great substitute for syrup, and the real win here is that at my 2 hour sugar check, my sugars were in good shape! Win-win!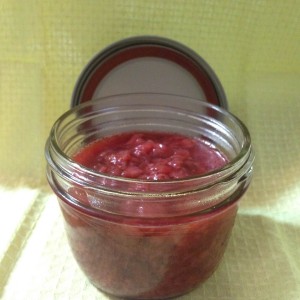 Strawberry Syrup
2016-03-12 07:55:51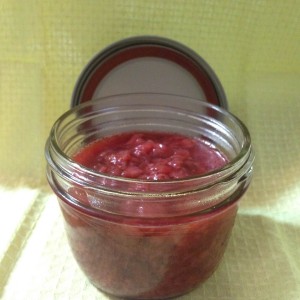 Serves 2
A lower GI, healthier option for a sweet topping for pancakes, ice cream, waffles, or anything you want a yummy strawberry syrup!
Nutrition Facts
Amount Per Serving
* Percent Daily Values are based on a 2,000 calorie diet. Your Daily Values may be higher or lower depending on your calorie needs.
Ingredients
9 large strawberries
1/2 cup water
1 tablespoon agave nectar
Instructions
Cut the strawberries into chunks.
Put strawberries, water, and agave into a small pot, and heat on high heat until strawberries are soft.
Once strawberries soften, mash with a potato masher or fork until desired consistency.
Reduce heat to medium, and let simmer approximately 10 minutes.
Remove from heat and enjoy hot, or allow to cool before serving.
SashAroundTheClock http://www.sasharoundtheclock.com/