You know that saying, don't make a mountain out of a mole hill? I've updated it, both for the current weather and because who even knows what a mole hill is anyway?
New and improved saying, "Don't Make a Blizzard Out of a Flurry."
Have you ever seen schools, workplaces, gyms, churches, etc start cancelling events for a projected snow storm? And have you ever laughed when that snow got pushed back or cancelled all together? While it's important to prepare ("We may have snow tomorrow, please check our Facebook page before heading our way"), it's not necessary to live life as though the blizzard is imminent.
You've probably figured out that I'm not just talking about snow here. I'm also talking about life. As a "planner" personality, I am frequently guilty of acting as though the blizzard is guaranteed. It's gotten worse as I've entered into motherhood. The frustration of starting a project just to have your toddler tear it apart (or potentially tear it apart) is enough to leave me quite literally frozen.
For example, while kiddo napped today, the hubby asked me to play a round of a video game. I said, "He could wake up any minute! I don't want to start it and then have him wake up in the middle." But then I took a deep breath and reminded myself not to make a blizzard out of a few snow flakes. We played for 20 beautiful toddler free minutes.
This afternoon I tackled a project that I've been putting off for years, literally. It was a simple-ish project – go through the 5000 pictures my sister took from our trip to Australia and post some on Facebook. Why have I put this off so long? It always seems so daunting to get started. I tell myself that when I have free time with my kiddo, I should be focused on him. How can I possibly start a long, intense project on my computer when I have mom-guilt and should be giving kiddo my attention?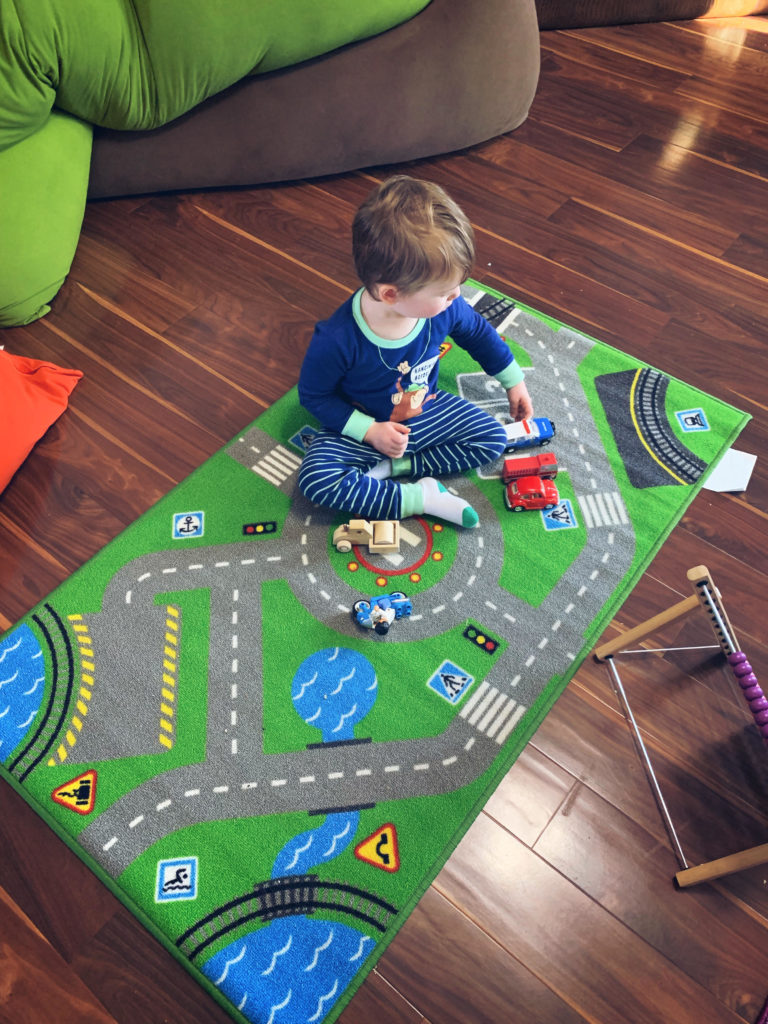 Today, the living room was cleared and kiddo was playing happily on the floor with his cars and his new roadway rug. I put the laptop in my lap. And I just freaking did it. I still talked to kiddo and responded to his sweet chattering about mommy driving the police car. I was still near him. I had to set the computer down a few times to do stuff with him, but I kept coming back to it until it was done. All of that blizzard building avoidance for YEARS. It feels good to mark something off of my "hanging over my head guilt laden" list. Hoping to mark a few more off this year!
Mom guilt and priority mapping aren't what stops me from starting projects. Blizzard-prepping avoidance, procrastination, laziness, anxiety. These things stop me from completing projects and mom-guilt is an enabling excuse.
It stops now. We can wrap ourselves in blankets and prepare for the cold – after all, winter is coming – but that doesn't mean that life comes to a screeching halt. Even kiddo knows that.