This morning, my hubby surprised me with a gift certificate to my favorite massage location for a series of three massages to wish me a happy Mother's Day. This is the first time those words have ever been directed at me, and it felt really amazing and somewhat surreal. To me, Mother's Day has always been 100% about celebrating the greatest mother I have ever known – who is obviously my own! But this year, as I'm thinking about what sort of mother I will be, I realize that there are so many things that my mom has done well, and that I am lucky to have a perfect Mom role model to help me shape my own parenting.
Mom taught me it's okay to not be perfect.
My mom is a chill, laid back sort of lady. I look at pictures from middle school, hair a mess and clothes ill fitted, and I ask my mom, "How could you let me go out looking like that??" My mom shrugs at me and says, "You were happy – who was I to criticize?" That's the sort of mom my mom is.
When we were preparing for my wedding, I teasingly asked her what she was going to make – the cake? The dress? Jonathan's mom made all sorts of things for her daughter's wedding. My mom responded, glibly, "Honey, the only thing I make is phone calls." Yet, I remember doing all sorts of crafts with her when we were kids. We painted tshirts and made barrettes and created ocean paintings for school art contests. Looking back, I know these things were no Picassos, but not being the best artist or crafter never stopped Mom from doing something fun with us. She didn't worry about things like that.
Mom always pushed me.
I went through a rough time with my mom for awhile in my late teenage years. She was always making me do things that made me wildly uncomfortable. She made me sign up for Mock Trial. She made me leave the freaking state for college! What I understand much better now, at age 30, is that Mom could see the areas where I needed growth, and she pushed me into situations that made me grow. Before Mock Trial, I was extremely shy. I would come home and tell Mom about all of my frustrations, but I would never stand up for myself. She could see that. By the end of high school, I was a confident public speaker who could express her ideas and thoughts. Socially, though, I was still most comfortable with my set group of friends. Even when some of those friendships were turning toxic, I hung onto them because again, being shy, it was easier to put up with bad friendships than have to start over. Mom saw that and saw that being forced to try something new and meet new people would be good for me. As I tried to choose between Ohio State – where most of my friends were going! – and the University of South Carolina, Mom counseled me to go to USC. She said if I hated it, I could always transfer, but at least give it a try. As usual, Mom is always right. I attribute most of my successful characteristics to the way Mom gently, or not-so-gently, forced me out of my comfort zone. (Of course, Dad was a huge part of these pushes as well, but Father's Day is around the corner and he'll get his own post. 🙂 )
My problems were never too small for Mom.
I used to love when Mom would make dinner. I'd be the first to volunteer to help, because I would get Mom's listening ear for an hour, away from my sisters and my dad and the news and what's going on with the world. I remember sitting on a step stool in her kitchen, shredding lettuce for salad, and telling her all of my problems. Granted, sometimes Mom's advice was, "Why do you care what other people think?" or "Sasha, you just need to relax." Even when her advice was less action oriented, Mom never made me feel silly for worrying about things. And as anyone who knows me well, knows, I am a huge worrier! Since becoming pregnant, Mom has been my most frequent phone call, and she has patiently mothered me through my own worries of becoming a Mom. Of course, now that I am older and less sensitive, Mom has taken to sassily giving me "real talk" and telling me not to sweat the small stuff! Nevertheless, she still listens and she still responds to my "911" texts and calls – even when they are far less than emergencies.
My Mom was the fun Mom.
The way I feel about my Mom is perfectly captured by this exchange I had with a teacher in high school once. Our teacher was looking for chaperones for a weekend trip, and immediately after class I went to her desk and said, "My mom will do it!" She looked at me, and said, "I usually have to call and beg parents to do this stuff. Wait, you actually WANT your own Mom to come?" My response was, "Of course! Mom will love to come and she's the best!" The truth was, my mom knew how to interact with both other parents and with other kids. She had a way of being chill and laid back and not in our business, but still setting boundaries and rules that let us know we couldn't mess with her. Because there was respect and trust, we didn't want to disappoint her and get in trouble. (Also, I was an angel 😉 ) On the flip side, she was NOT a helicopter Mom, following us around and asking us if we needed to use the restroom or if we washed our hands. I absolutely loved when Mom chaperoned things, all the way through prom, because my Mom was way better than anyone else's. She used to let me have parties in our basement- the perfect hang out spot with a TV and a foosball table. She wouldn't come down and "check" on us, per se, but she would come down with hot, fresh pizza rolls! I want to be clear, when I say my mom was the fun mom, I don't mean my mom was that TV-style fun-mom buying booze or letting us do whatever we want. But I do mean that Mom had a way of making everyone feel welcome and included, of letting us be kids and have fun and make a mess, and always being there for us.
Another example is this one time, Mom took me for a haircut and it turned out awful. Really awful. She let me ditch class the next day and instead took me to get the cut adjusted and then took me over to the local drug store to pick out all the butterfly clips I could carry to help turn my nightmare into something more palatable. Or how Mom would sit and play Nintendo with us for hours. Or drive us to Columbus for a concert and sit at a nearby McDonald's reading her book for hours waiting for us to be ready to go home. Which leads me to…
Mom never made it about herself.
Last piece of cake? You have it, dear. Concert in Columbus? Of course I'll drive you. Nothing to wear? Let's go spend hours shopping for you at the mall. No I don't need anything. Fighting with friends? Let's rent a movie and order a pizza, me, you and your sisters. It wasn't until I was much older that I realized my mom rarely asked for anything. She was always there, always available, and always putting her kids first.
Mom never met a stranger.
My mom was THAT lady who talks to everyone. As a kid, I was so embarrassed by the way she would strike up conversation with anyone around her. In the grocery store check out line. At the library. Heck, in the parking lot! But Mom taught me how to be friendly, warm, and polite no matter what situation I was in. My mom is such a warm, generous, kind person, that other people gravitate towards her. Speaking of those parties I used to have where we'd play games or watch movies in the basement – inevitably one of my friends would go missing and I'd find them in the kitchen, just talking to Mom.
I could go on and on about the amazing woman that my mom is, and all the ways that she has supported, loved, shaped, and grown not only myself, but my whole family. But my mom is also not the overly emotional type, so instead, I'll share a few of my favorite funny stories and a few pictures. 🙂
Why Mom Won't Share a Soda With Me
I was around five years old and we were on a long car trip. Mom was sharing her soda with me, and we took a refill to go in the car. After awhile, Mom commented, "I'm surprised there's so much left with both of us drinking out of it!" Proudly, I told Mom, "Mom! I have a secret way of making it last!" My mom gave me a hilarious, skeptical look that I will never, ever forget. She slowly says, "Whaaaat isss it?" I grin, and tell her, "I just swish it in my mouth and put it back!" I don't think Mom will ever 100% trust sharing a drink with me again….
That Time Mom Didn't Explain Babies to Me
When my mom was pregnant with my little sister, Alysha, she kept telling me I was getting another sister. Another sister. Now, I had an older sister, and I knew I was a sister. (I was not quite four at this time.) So I knew the new sister would be littler than me. But Mom neglected to really explain to me that this new sister would be a BABY and that BABIES don't do anything. Imagine my complete, utter disappointment when my new would-be-playmate came home and was a red, crying, thing that couldn't do anything. Cue months of me daily asking my mom, "Is she big enough to PLAY WITH YET?" Poor Mom.
That Time Mom Had to Taste Our Creations
My older sister, Saira, and I would sometimes be left at home while Mom, Dad, and Alysha went grocery shopping. I was in third grade and I think Saira was in sixth, so just old enough to watch me. We used to create food experiments in the kitchen. It was harmless (we didn't use the stove), and it kept us entertained for hours. The problem for Mom was that when she got home, of course we wanted her to taste what we made! Sometimes it was fine – ice cube tray popsicles made with apple juice. One time, though, we tried to create frosting from mayonnaise and sugar. Mom had to try that, too. And, not wanting to ruin our happy weekend playtime, she would paste a smile on her face and tell us at the very least that it was "interesting."
Little Chef in the Making
I believe that Mom's patience for mine and Saira's food creations, coupled with my love of spending dinner-making time with Mom, is what started my interest in inventing recipes. Mom and I would sometimes try to re-create things we liked from restaurants. Some things were very successful – we have an excellent method for making onion strings! And some not so much – remember that time we tried to make potstickers? Epic fail!
Me and Mom – based on the date, I was 2.5 years old. 🙂 May, 1988.
Charleston, SC, in 2007. This was before selfie-ing was a thing!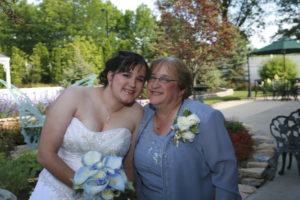 May 25, 2008. I think I look like Mom. 🙂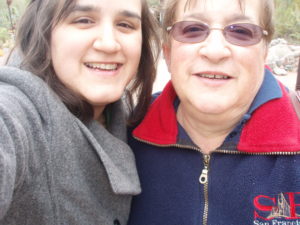 Alysha, Dad, Mom, Me – Australia, May 2015.
I don't have a ton of pics of Mom because she doesn't love to have her picture taken, but I think these few show her genuineness, her beautiful smile, her laughter, and her joy in her kids and family! There is literally nothing I could do to show Mom how very much I love her and how much she means to me. Thank you for being you and for everything you do!!!!!!
LOVE YOU, MOM!